Our crock pot honey garlic chicken is perfect for any weeknight meal, is kid-friendly, and made with only 5 ingredients! Grab honey, soy sauce, chicken breasts, chili sauce, garlic, and green onions and get cooking.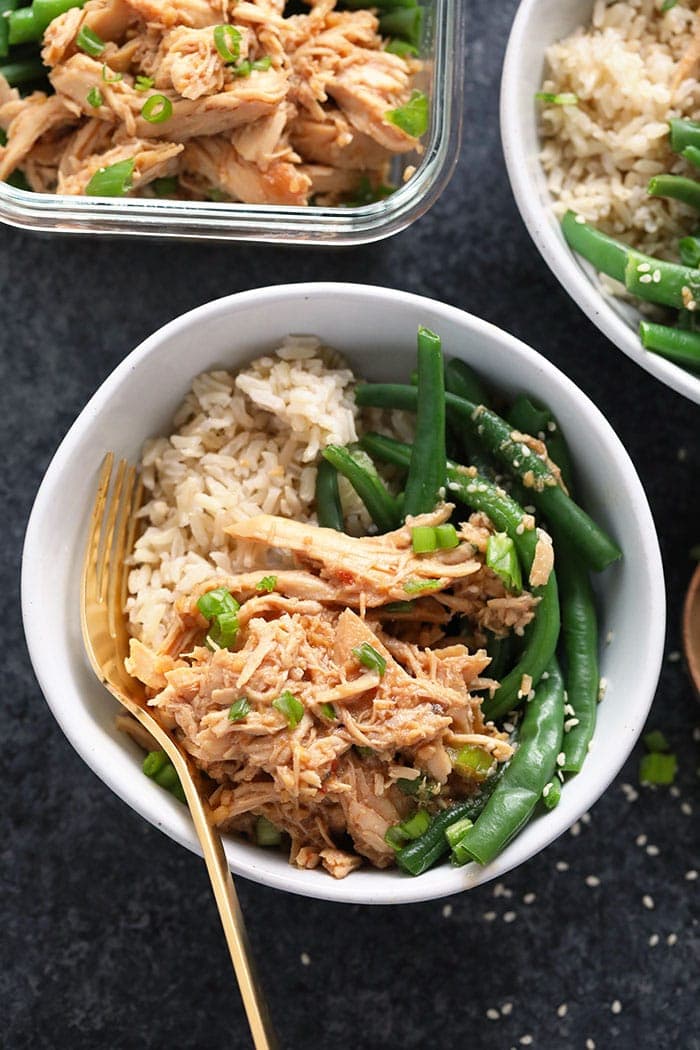 Crock Pot Honey Garlic Chicken
What is better than having dinner ready when you get home from a busy week? Throw all the ingredients for this honey garlic chicken into the slow cooker for an easy dinner.
The honey garlic sauce for this recipe is flavorful, sweet, and spicy all at the same time. Once you make this recipe, you'll want to slather this sauce all over everything!
We love slow cooker recipes that have minimal ingredients, big flavor, and easy to meal prep for the week.
Before You Start This Recipe…
what does honey garlic chicken taste like?
This honey garlic chicken recipe is the perfect combination of sweet and spicy. The honey balances out the chili sauce to make a sticky and delicious sauce.
Internal Temperature
Be sure that the chicken breasts have an internal temperature of 165ºF before shredding the chicken after cooking.
What type of chicken Do I use?
We use chicken breasts for this honey garlic chicken recipe. If you are a dark meat kind of person, feel free to use chicken thighs (boneless or bone-in).
Just be sure you check the temperature of the chicken thighs and remove the bones before shredding the meat.
be sure you spray your slow cooker
We always recommend spraying your slow cooker before cooking anything for a long period of time to avoid burning on the edges of your slow cooker.
Can I make this in the instant pot?
You can make a version of this recipe in the Instant Pot.
Follow are Instant Pot shredded chicken recipe.
After the chicken breast is shredded, return into back into the Instant Pot.
Add the soy sauce, garlic, chili sauce, and honey to a bowl and whisk all the ingredients together until the honey no longer clumps together.
Add the sauce to the Instant Pot and toss the chicken with all the other ingredients.
Turn on the sauté feature and bring the sauce to a boil.
Heat everything together until it reaches your desired temperature.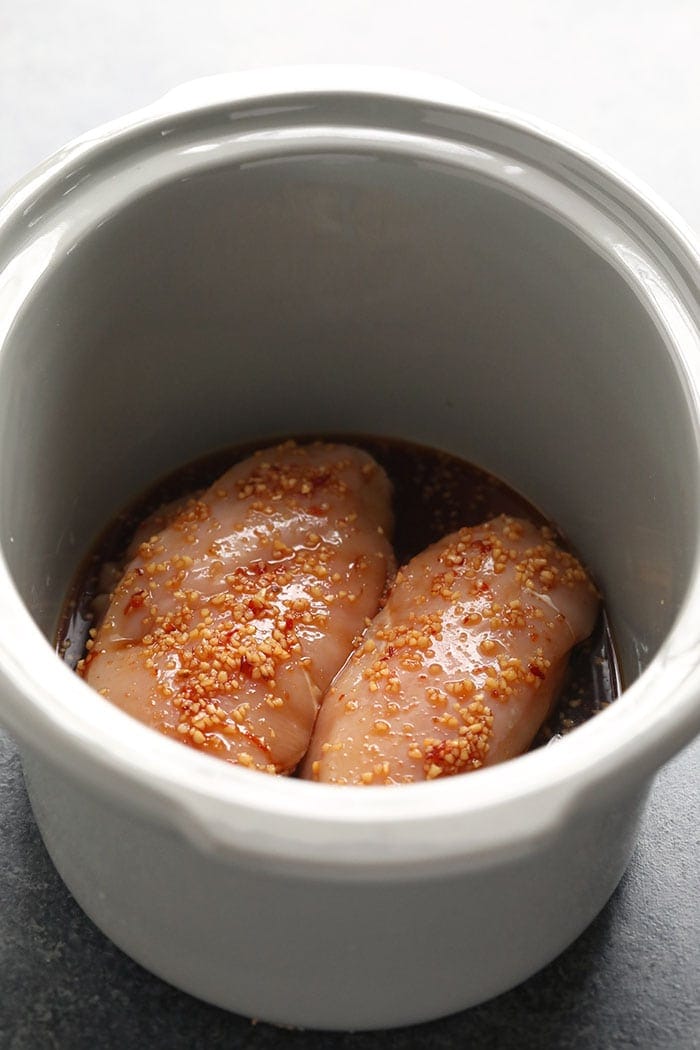 5-Ingredients You Need
You read that correctly, this amazing crock pot honey garlic chicken is made with only 5 ingredients…and chances are you already have them in your pantry! Here's the line-up:
Basic ingredients, amazing flavor!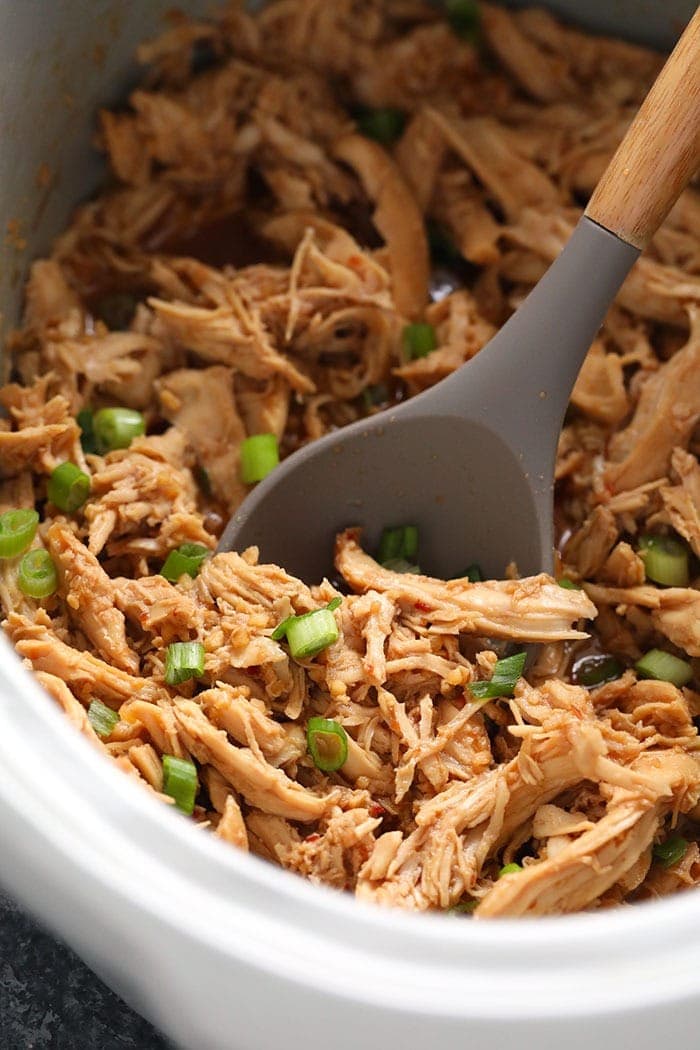 How to Make Honey Garlic Chicken Breast
It's quite simple. All you have to do for this recipe is put all 5 ingredients into a slow cooker, turn it on, and walk away!
Temperature + Cook Time
High: You can either cook this recipe on high for 2-4 hours or…
Low: for 6-8 hours.
We always recommend cooking your slow cooker chicken recipes on low for the longer period of time so that you can get chicken that's more tender and flavorful.
Once your chicken is cooked, remove chicken from slow cooker and shred.
At this point, you have the option to add a little cornstarch to the sauce to thicken things up a bit.
If you move forward with this step, make sure you completely dissolve the cornstarch into the sauce before adding the shredded chicken back in.
What Goes with Honey Garlic Chicken?
You can easily turn this slow cooker chicken recipe into an amazing chicken meal prep by pairing it with your favorite grain and stir-fried veggies.
Portion out a serving of honey garlic chicken with a cup of cooked grains and a cup of veggies.
a couple more ingredient tips
Make it spicy
If you want to make this honey garlic chicken any spicier, add red pepper flakes or a few teaspoons (or a tablespoon if you're a fire breathing dragon!) of sriracha to the honey garlic sauce.
Add some crunch
Serve this honey garlic chicken with sesame seeds or chopped cashews for some extra crunch.
How to Store Honey Garlic Chicken
Store this honey garlic chicken in an air tight container for 5-7 days in the refrigerator. We recommend keeping the honey garlic chicken separate from other ingredients (rice, veggies, etc.).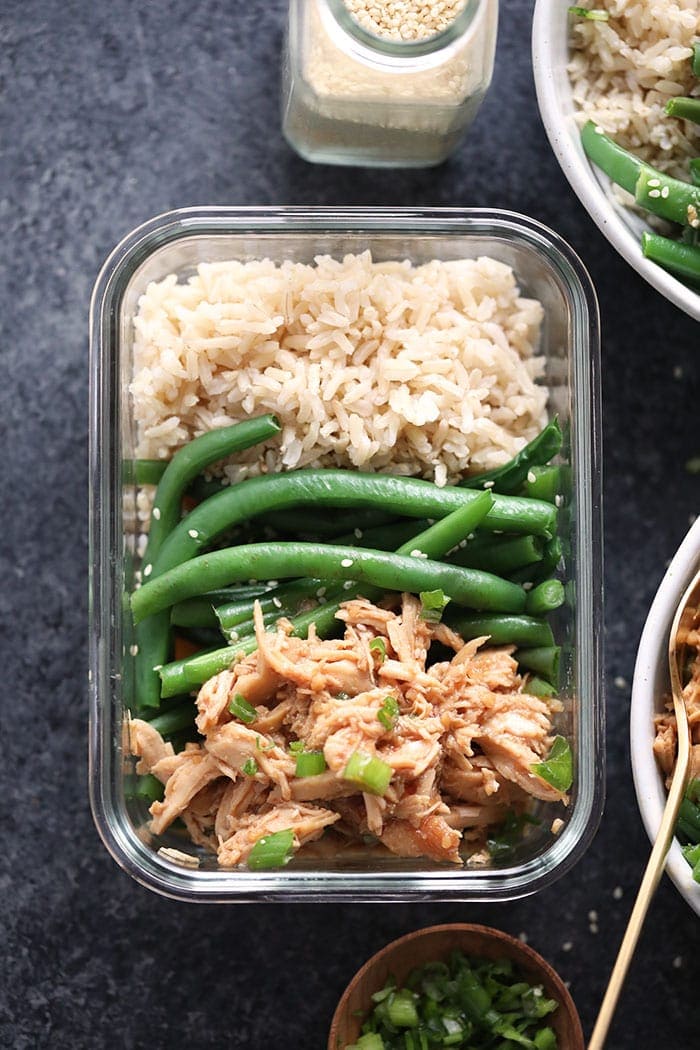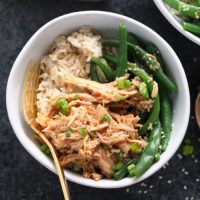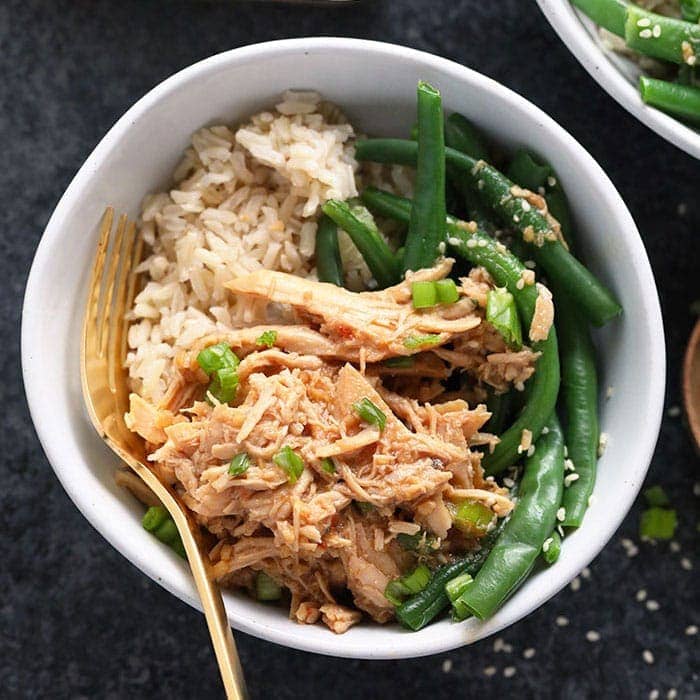 Crock Pot Honey Garlic Chicken
Our Crock Pot Honey Garlic Chicken is perfect for any weeknight meal, is kid-friendly, and made with only 5 ingredients! So? Make your grocery list, head to the store, and cook up this amazing slow cooker honey garlic chicken.
Prep: 10 minutesCook: 6 hoursTotal: 6 hours 10 minutes
Fat 3
Carbs 26
Protein 25
Yield 6 1x
Ingredients
1.5

lbs. boneless, skinless chicken breast

3 tablespoons

minced garlic

1/2 cup

honey

1/2 cup

soy sauce (or tamari)

2 teaspoon

chili garlic sauce

1/2 tablespoon

cornstarch (optional)
Instructions
First, create your honey garlic sauce. Whisk together minced garlic, honey, soy sauce, and red chili garlic sauce un honey has fully dissolved.
Next, place chicken breast on the bottom of your slow cooker. Then, pour the sauce over the chicken.
Turn slow cooker to high and cook for 2-4 hours OR low and cook for 6-8 hours.
Once your chicken is fully cooked and tender, remove chicken from slow cooker and use 2 forks to shred.
Thicken sauce by adding in 1/2 tablespoon of cornstarch and whisk until dissolved.
Then, add chicken back into the crockpot and stir with the sauce. Cover and let cook for 10 more minutes so that the sauce can fully thicken.
Serve with your favorite grain and vegetable.
Tips & Notes
Nutrition is just for the chicken.
Cornstarch is optional, but your sauce will be thin if you don't use it.
Nutrition Facts
Serving Size: 1/6
Calories: 214
Sugar: 23
Fat: 3
Carbohydrates: 26
Fiber: 0
Protein: 25
Category:
Dinner
Method:
Slow Cooker
Cuisine:
Asian
Keywords: crock pot honey garlic chicken, slow cooker honey garlic chicken